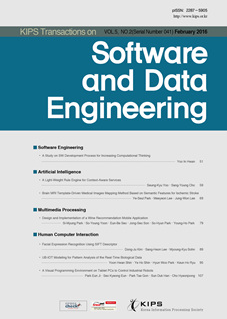 KIPS Transactions on
Software and Data Engineering
KIPS Trans. Softw. and Data Eng. was merged and renamed from The KIPS Transaction: Part B (1598-284X) and The KIPS Transaction: Part D (1598-2866), which were first published in 1994. After the official meeting of the Korea Information Processing Society in April 13, 2012 in Seoul, Korea, the board members of the Society decided to publish the journal dealing with software and data engineering research not only in Korea but also in the world. This work was supported by the Korean Federation of Science and Technology Societies (KOFST) grant funded by the Korean Government, indexed by Korea Science, Korea Citation Index (KCI), and EBSCO.
Highlights


Due to the FMD(foot-and-mouth disease), the domestic animal husbandry and related industries suffer enormous damage every year. Although various academic researches related to FMD are ongoing, engineering studies on the social effects of FMD are very...
show more



Open source software is used in various ways when developing new softwares all around the world. It requires rights and responsibilities as a form of an open source software license. Because the license is a contract between original software develop...
show more

---



Scene graph is a kind of knowledge graph that represents both objects and their relationships found in a image. This paper proposes a 3D scene graph generation model for three-dimensional indoor environments. An 3D scene graph includes not only objec...
show more

---



Recently, deep neural network based approaches have shown a good performance for various fields of natural language processing. A huge amount of training data is essential for building a deep neural network model. However, collecting a large size of ...
show more
Most Downloaded Papers (2018 ~ 2020) more
Latest Publication | (Vol. 8, No.12, Dec. 2019)|
Publication Ethics
With regard to ethical standards, KTSDE (KIPS Transactions on Software and Data Engineering) takes plagiarism very seriously and thoroughly checks all articles. KTSDE defines research ethics as securing objectivity and accuracy in the execution of research and the conclusion of results without any unintentional errors resulting from negligence or incorrect knowledge, etc. and without any intentional misconduct such as falsification, plagiarism, etc. When an author submits a paper to the KTSDE online submission and peer-review system, he/she should also upload the separate file "author check list" which contains a statement that all his/her research has been performed in accordance with ethical standards.

Among the KTSDE editorial board members, there are vice editor-in-chiefs who support KTSDE by dealing with any ethical problems associated with the publication process and give advice on how to handle cases of suspected research and publication misconduct. When the KTSDE manuscript editor (or the KTCCS secretary) looks over submitted papers and checks that they are suitable for further processing, the manuscript editor also routes them to the CrossCheck service provided by iThenticate. Based on the results provided by the CrossCheck service, the KTSDE vice editor-in-chiefs inform the KTSDE editor-in-chief of any plagiarism that is detected in a paper. Then, the KTSDE editor-in-chief communicates such detection to the author(s) while rejecting the paper.
Open Access
Since 2012, all papers published in KTSDE are subjected to a peer review and upon acceptance are immediately made permanently available free of charge for everyone worldwide to read and download from the journal's homepage (http://ktsde.kips.or.kr) without any subscription fee or personal registration. They are 'Open Access' papers distributed under the terms of the Creative Commons Attribution Non-Commercial License (http://creativecommons.org/licenses/by-nc/3.0/) which permits unrestricted non-commercial use, distribution, and reproduction in any medium, provided the original work is properly cited. This policy supports and encourages the publication of quality papers, making the journal an international forum for the exchange of different ideas and experiences.
Contact Information
KTSDE Secretary: Young-Suk Yun
Email: ysyun@kips.or.kr
Phone: +82-2-2077-1414, Fax: +82-2-2077-1472